Unser A-Wurf wurde am 05.10.2021 geboren
V: Oman Said Ter Dolen x M: Shahdad Ameerah Ahlayah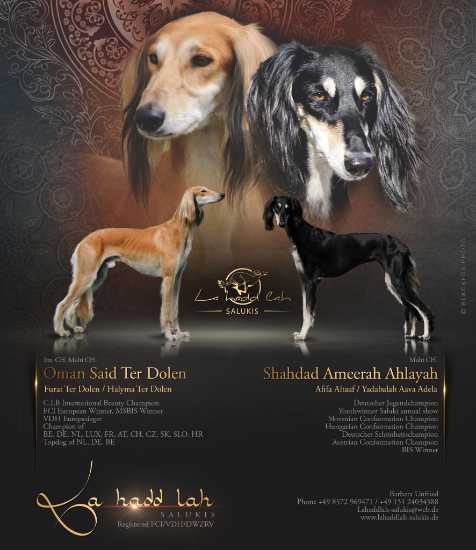 Ameerah ist eine wunderschöne, großrahmige, elegante Hündin mit der wir auf viele Erfolge zurückblicken können.
Sie hat ein sehr harmonisches, ausgreifendes Gangwerk, das leicht und mühelos wirkt.
Der wohl für uns schönste Sieg war auf der Salukijahresausstellung, bei der sie nicht nur den
Jahresjugendsieger, sondern auch das JBIS gewann. Wir waren so unendlich stolz!
Merry ist eine sehr ruhige, ausgeglichene Hündin die einen ganz tollen, liebenswürdigen Charakter hat.
Sie ist freundlich und aufgeschlossen gegenüber anderen Artgenossen und Menschen,
ohne dabei schüchtern oder ängstlich zu sein.
Sie liebt es zu rennen, deshalb ermöglichen wir es Ihr, so oft es geht, auf der Rennbahn
oder Coursing zu laufen.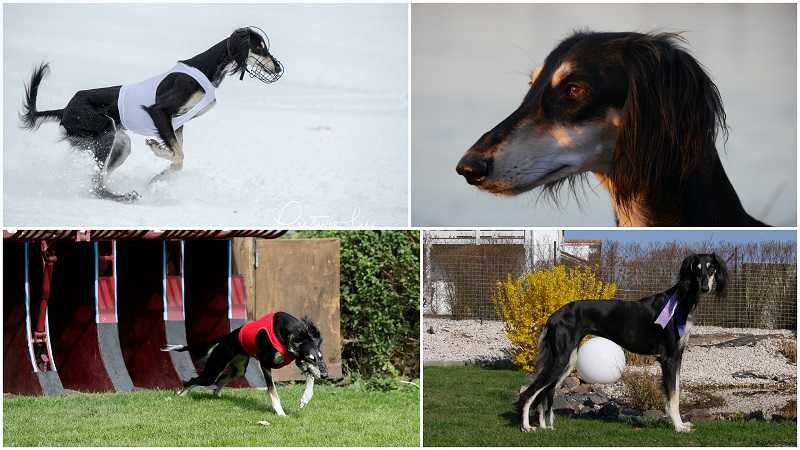 (Photos and © by Armin Haucke and Detlef Lehmann)
Ameerah is a beautiful, large-framed, elegant bitch with whom we can look back on many successes.
She has a very harmonious, sweeping movement that looks light-footed and effortless.
Probably the best victory for us, was at the Saluki annual exhibition, where she not only became the Annual
youth winner, but also the JBIS won. We were so proud!
Merry is a very calm, balanced bitch who has a really great and kind character.
She is friendly and open to other conspecifics and people, without being shy or frightened.
She loves to run, that's why we want to give her the opportunity to run on the racetrack or coursing as often as possible.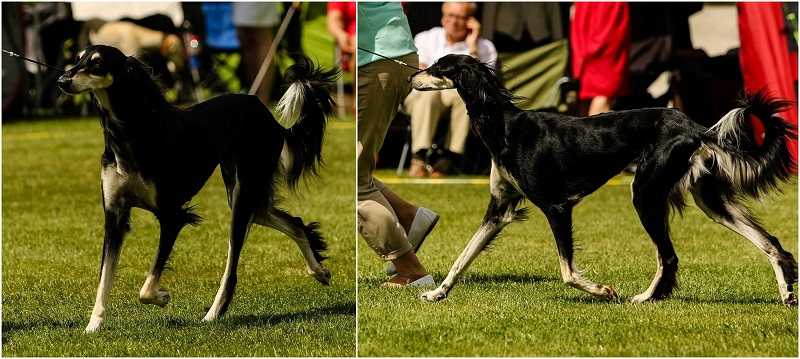 (photos and © by Sabine Horn)
Shahdad Ameerah Ahlayah
* 28.11.2016
(SE CH Afifa Altaaf x Int.MCH Yadabalah Aava Adela)
Breeder: Lucia Bramante
DWZRV Youth Champion
Salukijahresjugendsieger 2018
Austrian Champion
Slovenian Champion
Hungarian Champion
Landessieger Nordbayern 2019
Alpencup Sieger 2019
DWZRV Champion
Coursing Licence
BIS Winner
******
Als Vater unseres A-Wurfes haben wir uns für den wunderbaren Oman Said Ter Dolen entschieden.
An dieser Stelle möchten wir uns ganz herzlich bei Arlette und Paul bedanken!
Vielen Dank dass Ihr unsere Pläne unterstützt und uns Oman zur Verfügung stellt!
Oman ist ein kräftiger, muskulöser Rüde mit einem sehr schönen temperamentvollem Gangwerk,
der auf unzählige Erfolge zurückblicken kann.
Er ist ein lebhafter Saluki, voller Energie und immer bereit zu rennen und zu toben.
Ein Duracell Hase, wie seine Besitzer ihn gerne nennen.
Er hat aber auch eine ruhige und liebevolle Seite,
ist dabei sehr menschenbezogen und zu jedem freundlich und aufgeschlossen.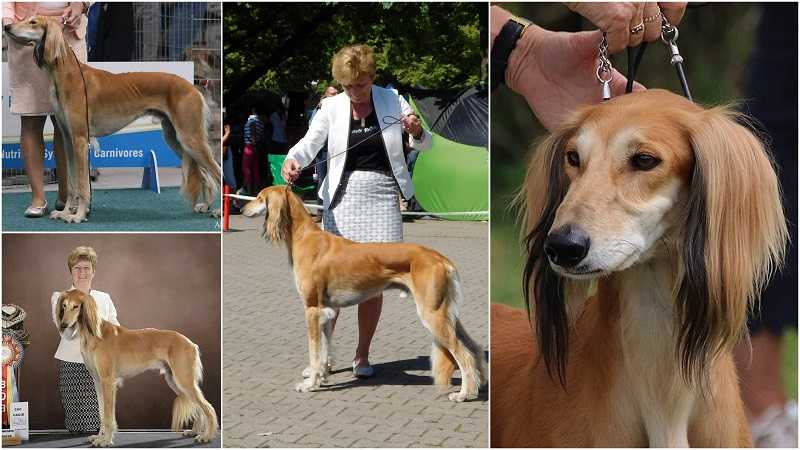 As the father of our A-Litter, we have chosen the wonderful Oman Said Ter Dolen.
We would like to take this opportunity to thank Arlette and Paul!
Thank you for supporting our plans and for making Oman available to us!
Oman is a strong, muscular male with a very nice, spirited gait,
who can look back on countless successes.
He is a vivacious Saluki, full of energy and always ready to run and romp.
A Duracell Bunny, as its owners like to call him.
But he has also a calm and loving side, is very people-oriented and friendly and open to everyone.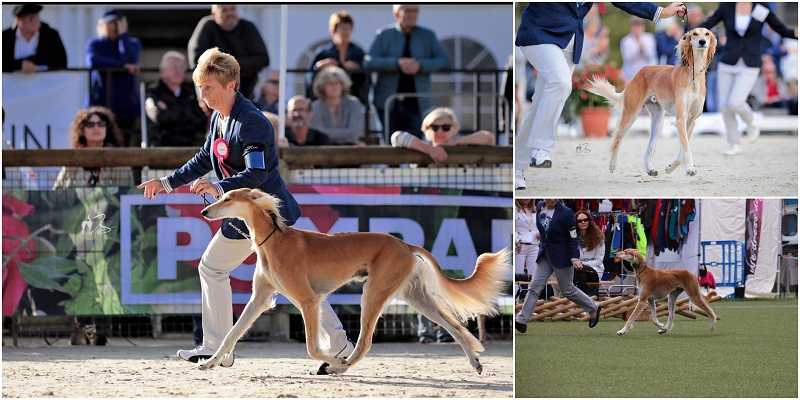 Oman Said Ter Dolen
* 28.08.2015
(Furat Ter Dolen x Halyma Ter Dolen)
Breeder: Dirk Borghijs-de Smedt
Owner: Arlette Ternest
DWZRV Youth Champion
VDH Youth Champion
Luxembourg Youth Champion
French Youth Champion
Dutch Youth Champion
Belgian Youth Champion
Youth Winner Donaueschingen 2016
Bundes Youth winner 2016
European Youth winner 2017
Champion of:
LU, BE, DE (VDH/DWZRV), NL, CZ, FR, SK, HR, SI, CH, AT
C.I.B International Beauty Champion
Belgian Winner 2017
Benelux Winner Belgium 2017
Benelux Winner Netherlands 2017
Croatian Club Winner 2018
VDH European Winner 2018
Benelux Winner Belgium 2018
FCI European Winner 2019
Swiss Exposition Champion
Multi BIS Winner
Selbstverständlich haben beide Eltern einen negativen Herzschall und sind NCL frei.
Of course, both parents have a negative heart rate and are NCL free.
Phone: +49 85 72 96 94 71 / +49 151 24 03 45 88
Mail: lahaddlah-salukis@web.de